3 Intellectual-property-related offenses
Fig. 1-3-2-5 shows the number of persons referred to public prosecutors for violations of the Trademark Act and the Copyright Act (See Appendix 1-4 for violations of the Patent Act, the Utility Model Act, and the Design Act).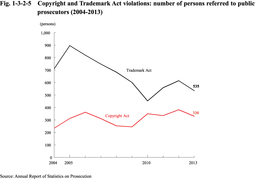 See Appendix 1-6 for the number of persons prosecuted or not prosecuted, and Appendix 1-7 for the sentencing at the court of first instance for financial and economic offenses in this section.