Section 2 Referrals of Juvenile Cases to Public Prosecutors and Courts
1 Investigation (until referral to family courts)
Fig. 3-2-2-1 shows the number of juvenile offenders newly referred to public prosecutors by age group and type of offenses. (For the changes over time, see Appendix 3-8).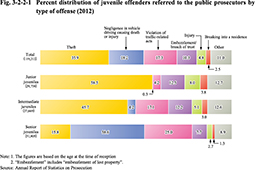 (2) Referral to family courts
Public prosecutors can offer opinions about the disposition they consider the most appropriate when referring juvenile cases to family courts. See Appendix 3-9 for the status of the opinions of public prosecutors about disposition of juveniles.