The Saiban-in Act promulgated on May 28, 2004 established the Saiban-in system.
It is expected that the general public's sound common sense shall be reflected in the contents of trials through their participation widely in the process of criminal trials, which will deepen the general public's understanding and support toward the judiciary and enable the judiciary to obtain a stronger national foundation. The Act, excluding a part of provisions, is to be put into force on a date specified by a Cabinet Order within five years from the date of promulgation.
Cases to be covered by Saiban-in trials are, in principle, cases pertaining to offenses punishable by death penalty, life imprisonment with or without work (Item-1 cases), cases to be treated under the collegiate court system which pertain to offenses causing death to victims through intentional crime activities (Item-2 cases).
At Saiban-in trials, deliberation shall be conducted by a collegial body consisting of three judges and six Saiban-ins (for cases without disputes that meet certain conditions, one judge and four Saiban-ins) for finding facts pertaining to judgment and deciding application of acts and regulations and the appropriate punishment. Verdict shall be made based on opinions of the majority of the collegial body including those of both judges and Saiban-ins.
Fig. 6-5-5-1
Fig. 6-5-5-1 shows the flow of procedures for cases under the Saiban-in system.
Fig. 6-5-5-1 Flow of procedures for cases under the Saiban-in system (Image)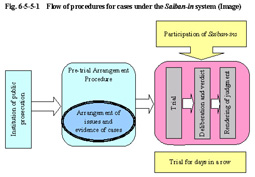 The flow of selecting Saiban-ins is as follows. A list of Saiban-in candidates selected by lot among those registered as eligible voters shall be made every year by respective district courts. Saiban-in candidates are selected by lot from the list of Saiban-in candidates for respective cases and are summoned to the courts for selection procedures. The courts select Saiban-ins after excluding those with certain disqualification causes, those with employment prohibition causes, those with causes deemed disqualified for cases, those whose refusal is admitted by the court due to certain refusal causes, and those whom a public prosecutor or a defendant requests not to select without presenting any causes.