3 Reality of sexual offenses targeting minors
In order to clarify part of the reality of sexual offenses targeting minors, we examined the contents of the sexual offenses for which released inmates had been convicted and extracted 99 persons whose victims included persons younger than 13 years of age. In additions to sexual offense cases committed by these 99 persons, we examined previous convictions for sexual offenses and repeat sexual offenses after release and extracted 310 sexual offense cases with victims younger than 13 years of age (328 persons) to analyze the modus operandi, etc. of these offenses. It should be noted that the targets of this examination were extracted in the above-mentioned way and that the examination did not cover overall sexual offenses victimizing minors.

(1) Characteristics of sexual offenses targeting minors
Fig. 6-4-2-11
shows the characteristics of sexual offenses targeting minors.
Fig. 6-4-2-11 Characteristics of sexual offenses targeting minors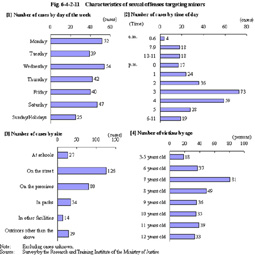 By sex, girl victims were 293 (89.3%) and boy victims were 35 (10.7%). 15 victims were acquainted with the offender and 313 were not.
(2) Modus operandi
In most cases, offenders first spoke to a victim in some way (173 cases) or directly had bodily contact with a victim (124 cases), but there was a case committed by breaking into a house of a victim late at night while she was asleep.
Offenders often spoke to a victim by asking to show him the way, by pointing out her disheveled clothes, by attracting her attention with a topic of animals such as a cute cat, or by luring her saying that he would introduce her to a famous person or give her money or sweets.

(3) Conclusion
Tragic cases where children are victimized in sexual offenses, etc. have occurred frequently in recent years. Such offenses may cause tremendous mental and physical damages particularly to children, and victims often cannot recover from them. The "Special Public Opinion Poll on Children's Security" conducted by the Cabinet Office between June and July 2006 shows that three out of four respondents have some anxiety about the possibility that "children around them might be involved in some kind of offense." People have come to feel stronger worries about the environment surrounding children.
As far as our analysis of sexual offenses targeting minors shows, such offenses are most frequently committed on weekdays, between 14:00 and 16:00 in particular, on the street. Elementary school students are most likely to be attacked on their way back home from school, and it is particularly dangerous when a minor becomes alone.
The government has also been strengthening anticrime measures to protect children from being involved in offenses on their way to and from school.
In order to protect children from crimes, the police and local communities need to cooperate with each other. In communities, volunteers and private companies guard and patrol school routes during hours children go to and go back from school. In addition to these, parents pick up and drop off children, children go to and back from school in groups, and school bus services are available in some communities. Furthermore, measures from the viewpoint of children will be needed, such as teaching them how to react when they encounter dangerous situations. It is very important to widely promote activities to eliminate the general public's anxiety over crimes as much as possible.