Fig. 1-5-1-1
shows the trends in the number of persons traveling overseas from Japan since 1950.
Aside from the decline over the previous year in 1998 and 2001, the number of Japanese travelers overseas has consistently increased. In 2002, the number increased by 307,147 (1.9%) from the previous year to 16,522,804. By gender, males accounted for 55.2% and females for 44.8% of the total number. By age, most of them were persons aged 25-29 years at 12.6%, followed by persons aged 30-34 years at 11.9%, and persons aged 50-54 years at 10.4%. Among those aged 25-29, the number of female travelers (1,236,502, or 59.3%) was about 1.5 times larger than that of male travelers (846,972, 40.7%) (Source: Data by Immigration Bureau, Ministry of Justice).
Among Japanese nationals residing overseas,
Fig. 1-5-1-2
shows the trends in the number of "permanent residents", and "long-term residents" who stay for 3 months or more (they are collectively referred to as "Japanese residents"). In 2002, both permanent and long-term residents increased by 12.1% and by 35.9% respectively compared with 1993, although permanent residents decreased by 2.6% and long-term residents increased by 8.0% respectively from the previous year.
Fig. 1-5-1-1 Trends in the number of persons traveling overseas from Japan (1950-2002)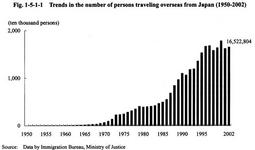 Fig. 1-5-1-2 Trends in the number of Japanese residents overseas (As of October 1 in 1993-2002)