2 Probationary supervision
During probationary supervision, sex offender treatment programs are carried out for all probationers/parolees categorized into those related to sexual offenses (in addition to those who committed sexual offenses such as rape and forcible indecency, those who committed offenses such as lingerie theft with sexual desire as their reasons or motives) in the categorized treatment system (see
Part 2, Chapter 5, Section 2, 2 (2)
).
Fig. 6-4-4-2
shows the outline of
sex offender treatment programs
during probationary supervision.
Fig. 6-4-4-2 Outline of sex offender treatment programs during probationary supervision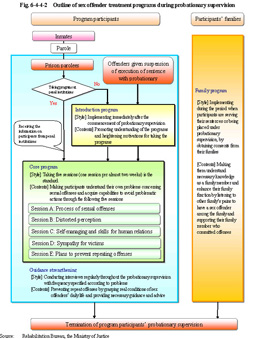 Sex offender treatment programs consist of four programs as described in the following (2). Among these four programs, the core program, based on Cognitive-Behavioral Treatment is compulsory for prison parolees as part of special parole conditions. However, those with severe mental disorder, those with severe developmental disorder (including those intellectually disabled), those who do not understand Japanese, and those whose term of parole is short are excluded, as the core program is not so effective for these persons.
In accordance with the revision of the Act for Probationary Supervision of Offenders Given Suspension of Execution of Sentence (enforced on September 19, 2006), offenders given suspension of execution of sentence with probationary supervision have also come to be required to take the core program, based on the opinions of the court which rendered their sentences.
(1) Utilization of examination/judgment of the risk of repeat offenses, etc.
Just as at penal institutions, the risk of repeat offenses and treatment needs are to be examined and judged, and the results shall be reflected in how to carry out sex offender treatment programs. In the case where an examination has already been conducted for an inmate at a penal institution, that shall be succeeded. For those for whom such an examination has not been conducted, a probation office shall conduct a similar examination and judgment as that in a penal institution and reflect the results in carrying out treatment programs.

(2) Treatment programs
a. Introduction program
The introduction program aims to make program participants understand the core program and stimulate their motivation to take these treatment programs. Probation officers carry out the program immediately after the commencement of probationary supervision.
Those who have completed the guidance for preventing repeat sexual offenses at penal institutions can skip this introduction program.

b. Core program
The core program consists of five sessions - "process of sexual offenses," "distorted perception," "self-managing and skills for human relations," "sympathy for victims," and "plans to prevent repeating offenses." In FY2006, at probation offices in Tokyo, Nagoya, Osaka, and Fukuoka, a "Special Treatment Implementation Group" is to be established, and the Group shall mainly carry out the program through group work or individual guidance. At other probation offices, probation officers shall carry out the program basically through individual guidance.
Group work and other activities are to be carried out once almost every two weeks.

c. Guidance strengthening program
In the guidance strengthening program, any sign of repeat offenses shall be immediately detected and appropriate countermeasures shall be taken. For that purpose, real conditions of sex offenders' daily life shall be grasped in detail through direct involvement of probation officers and contact with volunteer probation officers, and concrete guidance and advice shall be given. Probation officers have interviews with each program participant regularly with frequency specified according to the risk of repeat offenses and treatment needs of the participant examined and judged upon the commencement of probationary supervision. If a sign of repeat offenses is detected for a program participant, an interview or other necessary measures shall be taken immediately. When conducting an interview, probation officers shall use a previously-specified check list so as to detect any sign of repeat offenses.

d. Family program
The family program aims to prompt program participants' families to fully understand the contents and the necessity of treatment programs. The program requests those families to provide cooperation for encouraging program participants to continue taking the core program, and gives them necessary advice. Throughout the term of probationary supervision, probation officers conduct interviews with families and sometimes have group work by gathering them together. Such approach to families by this program sometimes starts while program participants are still in penal institutions.