2 Efforts for solving problems of overcrowding, etc.
In order to solve the serious conditions at penal institutions and enhance treatment of inmates, the measures below have been carried out as a part of infrastructure building.
Furthermore, on July 26, 2006, the Minister of Justice consulted the Legislative Council about the introduction of a system to require inmates to volunteer for social work and a new type of treatment conducted without accommodating inmates in penal institutions (including appropriate ways of intermediate treatment and bail, etc.) from the viewpoint of preventing inmates from repeating offenses and promoting their rehabilitation, as well as normalizing the number of accommodated inmates.

(1) Increase of imprisonment capacity
In recent years, efforts have been made to increase imprisonment capacity by renovating and expanding penal institutions. Imprisonment capacity of overall penal institutions increased by 11,316 persons (9,995 for sentenced inmates and 1,321 for untried inmates) in four years, from 64,727 persons as on December 31 of 2001 to 76,043 persons as on the same day of 2005 (Source: Correction Bureau, Ministry of Justice). However, as the number of inmates has continued to increase, overcrowding has not been resolved drastically.

(2) Maintenance and management of penal institutions by way of PFI method
The Private Finance Initiative (PFI) is a new method to construct, maintain, and operate public facilities by utilizing funds and know-how of the private sector. In the U.K. and the U.S., private funds have already been utilized for the maintenance and management of penal institutions. From the viewpoint of easing the overcrowding problem and looking for a new system for operating penal institutions, the necessity of utilizing the PFI method in maintaining and operating penal institutions was deliberated also in Japan based on the
Act for Promotion of the PFI Management Method for Public Facilities
(Act No. 117 of 1999), which was established with the purpose of developing social capital in an efficient and effective manner. As a result, it was determined to build the "Mine Center for Promotion of Social Rehabilitations (tentative name)" in Mine-shi, Yamaguchi Prefecture.
Under the policy to establish "penal institutions with public understanding and support" through "management with involvement of both public and private sectors" and "coexistence with local communities," the "System for Special Zones for Structural Reform" shall be utilized for this Center and private sector's know-how shall be fully utilized not only in designing and constructing facilities but also in operating them. The Center is scheduled to start operations in April 2007 as an institution to accommodate 1,000 inmates (500 males and 500 females) who have not developed their criminal tendency yet. As the second PFI penal institution project, it is planned to establish and operate the "Shimane Asahi Center for Promotion of Social Rehabilitations (tentative name)" in Hamada-shi, Shimane Prefecture. With regard to facilities the government is going to construct in Sakura-shi, Tochigi Prefecture and Kakogawa-shi, Hyogo Prefecture, part of operations of these facilities are also planned to be conducted as the third and fourth PFI penal institution projects.
These new types of penal institutions are expected to further enhance inmate treatment under collaboration between the government, private entities and local communities (see
Fig. 6-3-4-2
).
Fig. 6-3-4-2 Outline of the Mine Center for Promotion of Social Rehabilitations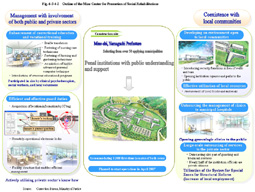 (3) Outsourcing
Outsourcing of part of correctional services to the private sector has been utilized actively for reducing burdens on institution officials. The number of private outsourcees increased significantly from 35 persons in FY2002 to 617 persons in FY2005. Types of outsourced services have also become wide-ranging from conventional services such as drivers, work leaders, and translators/interpreters to newly added services such as dietitians, retention/purchase staff, and front gate guards (Source: Correction Bureau, Ministry of Justice).