As of December 31, 2005, the imprisonment capacity of penal institutions was 76,043 including 58,906 for sentenced inmates, and the actual number of imprisoned inmates was 79,055 including 68,319 sentenced inmates.
Fig. 2-4-1-1
shows the trends in the rate of imprisonment (the rate of imprisoned inmates against imprisonment capacity) over the last 20 years.
As of December 31, 2005, the rate of imprisonment slightly decreased from the same time of the previous year due to an effort to raise the imprisonment capacity. However, the number of inmates has been on an upward trend, and penal institutions are still overcrowded. Among 74 (main) penal institutions, 56 institutions (75.7%) accommodate inmates exceeding their capacity (Source: The Correction Bureau, Ministry of Justice).
Fig. 2-4-1-1 Trends in the rate of imprisonment of penal institutions (As of December 31 in each year in 1986 - 2005)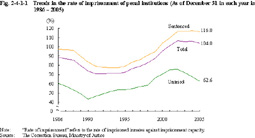 Mealtime in factory's canteen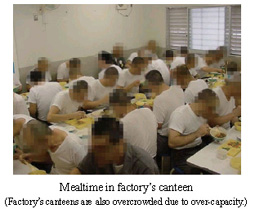 A room for inmates