Fig. 1-2-2-3
shows the number of persons newly received by public prosecutors offices for violations of the
Public Offices Election Act
(Act No. 100 of 1950), over the last 10 years (See
Appendix 1-4
).
Fig. 1-2-2-3 Number of persons newly received by public prosecutors offices for violation of the Public Offices Election Act (1996-2005)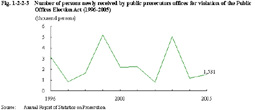 The annual number of Public Offices Election Act violations depends on whether or not there are any elections and on which type of elections are held. The number was remarkably high in 1999 and 2003, as unified local elections were held in 1999 and unified local elections and general elections for the House of Representatives were held in 2003.
Of persons referred for violations of election-related acts in 2005, "bribery and inducement by interests" was the most common at 1,074 persons (81.9%), followed by "violations of restriction concerning documents and drawings" at 53 persons (4.0%) and "interference of freedom of elections" at 44 persons (3.4%) (Source: Criminal Statistics by National Police Agency).