Section3 Measures for the Administration of Parole
1. Preparatory parole investigation
(1) Summary and history
For more fine-tuned parole examination,a wide range of information must be collected about a prisoner's attitude and behavior in a prison,his/her mental and physical conditions,and the environment in which he/she plans to live after release.Sufficient data could not be not collected if such an investigation is carried out after the filing of a parole application.Therefore,the
preparatory parole investigation,
which allows a parole officer of a Regional Parole Board to carry out parole investigation before the filing of a parole application,has been adopted since1966.
Preparatory investigations were carried out only for some juvenile institutions in the early state of introduction,but their application was expanded to some adult institutions,and then to all correctional institutions in1990.
Fig. 5-4-3-1
shows preparatory parole investigations which were implemented for prisoners since1990.The number of prisoners examined by preparatory parole investigations has been rising,which indicates that such investigations have been actively implemented.
Fig. 5-4-3-1 Prisoners examined by preparatory parole investigations(1990-2003)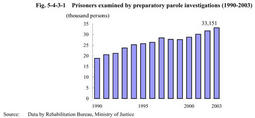 (2) Contents and method of investigations
A probation/parole officer in a Regional Parole Board carries out preparatory investigations through interviews with a prisoner,inspection of his/her related records,and contact with the staff of probation offices in charge of the prisoner's environmental adjustment.The parole officer in charge examines related matters to the prisoner such as his/her mental and physical conditions,life history,motivation and cause of crime,compensation of damage to victims,environment of the place planned to live after his/her release,and status of his/her family members.The officer also plays the role of a caseworker,offering consultation and advice so that the prisoner may be easily reintegrated into society.
The results of preparatory parole investigations are important data not only for parole examinations,but also are sent to probation offices where they are used as reference data for environmental adjustment,or for supervision and care after the prisoner's release on parole.

(3) Parole officersstationed in prisons
To further enhance the preparatory parole investigation,some parole officers in Regional Parole Boards are stationed in prisons.The stationed parole officers were introduced in1984.In addition to conduct parole investigations,parole officers stationed in prisons serve as intermediaries between institutional and community-based corrections,by helping pre-release guidance and participating in case conferences in prisons.As of the end of2003,parole officers were stationed at10large-scale prisons in Sapporo,Miyagi,Fuchu,Yokohama,Nagoya,Kyoto,Osaka,Kobe,Hiroshima,and Fukuoka which accommodate a large number of those prisoners who have an advanced criminal tendency and are classified to be difficult to treat.