4. Promoting treatment programs according to characteristics of prisoners
(1) Reviewing classification/progressive treatment system
In Japan,Classification Treatment System has been adopted as the basic system to reform individual prisoners according to their characteristics and environments and to rehabilitate them smoothly into society.The progressive treatment system has been adopted as measures to encourage prisoners to feel patient,have incentive to rehabilitate themselves,and gradually become adjusted to society.This system has four grades to provide them with different favorable treatment and responsibilities according to their efforts and achievement.
The Council on Prison Administration Reform has pointed out that classification and implemented treatment program are not organically linked in the present Classification Treatment System,and it recommends that the system of classification and accommodation should be thoroughly reviewed in order to implement more effective individualized treatment.The Council also recommends abolishing present progressive treatment system,since:(1)under this system all newly admitted prisoners are classified into the lowest rank without exception,(2)the system is not linked to parole in reality,and(3)favorable treatment granted to the upper ranks has become less attractive due to overall improvement of living standards in prisons etc.Through implementing more open treatment,which includes changes in the extent of prisoners'personal possession,frequency and style of their external communications,and permission to leave the prison and stay out overnight,the Council recommends establishing multi ple ranks with attractive privileges for prisoners and establishing a new incentive system that can truly arouse prisoners'motivation for rehabilitation.These recommendations suggest the necessity of thoroughly reviewing the basic treatment system for prisoners,and their realization will be future tasks closely linked to the amendment of basic laws and ordinances such as the Prison Law.
The recommendations mentioned above are all based upon the idea that treatment programs should be individualized according to individual prisoner's characteristics,but various measures have already been taken from the same viewpoint under the current laws.The following reports present efforts in guidance for treatment type and vocational training among those measures.

(2) Guidance for treatment type
a. Outline
Guidance for treatment type,as a part of living guidance,provides guidance to improve problems in prisoners'adjustment to society for small groups of prisoners divided according to their type of offense,their disposition that caused the offense,and factors that obstruct rehabilitation etc.Groups generally consist of several to20prisoners,and one course is often made up of several60-minute lessons of lectures,discussion,group counseling,writing task compositions etc.provided by prison staff,visiting lecturers or guest speakers.
Major education items are for preventing stimulant drug abuse,on alcohol abuse,on traffic safety,for withdrawal from organized crime groups,for preventing repeated theft,education from the viewpoint of victims,and guidance for elderly prisoners etc.
Table 5-3-3-6
shows the implementation of those guidance programs in FY1997 and FY2004.For education program for preventing stimulant drug abuse,which was implemented most widely,see
Section2-4
in this chapter.The following are the outlines of"education program from the viewpoint of victims,"which has been actively provided in recent years,and guidance program for elderly prisoners.
Table 5-3-3-6 Prisons that carried out guidance programs for treatment type(As of April1,1997and2004,respectively)

b. Education program from viewpoint o fvictims
In recent years,further consideration has been required for the feelings of crime victims and their families.Prisons are also required to enhance guidance of prisoners,who are perpetrators,to make them understand the seriousness of their crime and the feelings of their victims.From such viewpoint,"education program from the viewpoint of victims"has come to be carried out in more and more prisons.It was introduced as a part of treatment type guidance in28prisons and was under consideration in another three prisons in FY2004(Source:Data by Correction Bureau,Ministry of Justice).
The contents and methods of"education program from the viewpoint of victims"vary in each prison,but in general,program is provided through lectures and speeches,VTR viewing,group discussion,writing task compositions,individual interview,role-lettering(e.g.Prisoners are made to write a letter that is assumed to a crime victim and to write a letter back from the standpoint of its receiver,and to repeat the whole process)and counseling etc.The purposes are"to prompt them to understand the feelings and hardships of the victims and their bereaved families,""to prompt them to understand the legal and financial situations of the victims and their bereaved families,""to prompt them to consider their own offense from the victims'viewpoint and deepen their self-contemplation to prevent them from repeating offenses,"and"to prompt them to consider ways for compensation"etc.
"Education program from the viewpoint of victims"is provided by prison staff or by volunteer visitors for inmates,or sometimes by invited lecturers as guest speakers who have sufficient knowledge and understanding of protection and support of victims.Since guest speakers were first introduced in FY2001,they had been invited in34prisons as of April2004.In FY2003,such guidance was provided407times(for8,351prisoners),among which174times(for1,254prisoners)were as a part of treatment type guidance,99times(for1,240prisoners)as guidance at the beginning of execution of sentence,56times(for56prisoners)as individual interviews,36times(for404prisoners)as pre-release guidance,and9times(for4,540prisoners)as lectures for all prisoners etc.Until April2004,83lecturers have been invited,including psychiatrists,clinical psychotherapists,victims support center staff,legal professionals,policing professionals etc.They were asked to give fact-based talks about the agony of crime victim s and their bereaved families(Source:Data by Correction Bureau,Ministry of Justice).
The Ministry of Justice started to hold workshops inviting intellectuals from the private sector in June2004,in order to review and enhance"education programs from the viewpoint of victims."

c. Guidance for elderly prisoners
In line with the aging of prisoners,12prisons provide"guidance program for elderly prisoners"as of April1,2004.Elderly prisoners are at an age where they would normally be retired and seek a way to spend the rest of their life,and many of them suffer from physical declines.Prisons make efforts to provide guidance suitable for elderly prisoners'needs.
The contents of the program vary in each prison,but they generally include items encouraging elderly prisoners to lead a meaningful life,as well as health management or adult disease prevention,safe exercise for the elderly,adjustment of their places to return and life guidance after their release,welfare issues such as pension and health insurance,and social economic situation and job market information etc.They are planned for elderly prisoners to maintain good health and spirit and to positively plan their lives after release.

(3) Vocational training
Vocational training is aimed at making prisoners acquire and improve skills necessary for vocation.It is provided to selected eligible prisoners as a part of prison work and individualized treatment programs according to the characteristics of prisoners.Items for vocational training include hair dressing,beautification,welding,electrical work,shipping work,automobile maintenance,information processing,numerically-controlled machine etc.and are reviewed as the labor demand changes.The newly introduced items since FY1993 include forklift driving,small vehicle-type construction machinery,nursing service,job assistance courses(course to help prisoners to acquire vocational knowledge and skills for constructing the framework of buildings and provide them with job information)etc.
Since vocational training requires advanced technical guidance,staff with necessary qualifications or professionals in the private sector are in charge.The training periods vary according to courses,and some are for as long as two years(hairdressing and beautification)or one year(automobile maintenance,welding,electrical work,and shipping work etc),that enable prisoners to acquire official certifications or licenses if they are motivated.
Fig. 5-3-3-7
shows the number of released prisoners who completed vocational training courses and the number of those who had acquired major certifications or licenses since1984.More than1,000released prisoners completed vocational training courses every year,and many of them acquired certifications or licenses.
Fig. 5-3-3-7 Trend of released prisoners who completed vocational training courses and those who had acquired certifications or licenses(1984-2003)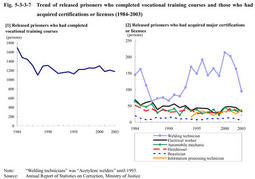 Vocational training not only increases prisoners'incentive to work,but also makes it easier for them to find new employment,supporting their living after release.The importance of vocational training has become even greater,particularly in the recent increase of unemployment rate among newly admitted prisoners to 66.8% in 2003(see
Fig. 5-3-2-9
).The Council on Prison Administration Reform also recommends providing opportunities of vocational training for more prisoners.
Since vocational training requires various resources such as special machinery and equipment,professional engineering staff,and training facilities or locations,it is not easy to develop new training programs in overcrowded prisons.However,it is necessary to develop training programs that can be conducted even in overcrowded prisons and that are effective for prisoners'future employment.Vocational training courses aimed at prisoners'acquisition of certifications or licenses have been conducted mainly in the institutions for first-time prisoners.However,vocational certifications/licenses directly support prisoners'rehabilitation into society,and it is an issue to expand opportunities for repeat prisoners to take those vocational training courses,as repeat prisoners have more difficulties in their living after release.
Column
Vocational Training
Vocational training is aimed at encouraging prisoners acquire or improve skills necessary for jobs.It is conducted in various courses,as mentioned in the main text.Photographs1and2show automobile maintenance training.The trainees are listening carefully to the instructor's explanation.Some prisons providing automobile maintenance training are certified by the national government as automobile disassembly maintenance establishments and undertake checkout,maintenance and procedures for automobile inspection for outside consumers.Photograph3shows prisoners in a female prison taking training in forklift driving.Under the movements towards a gender-equal society and improvement of welfare services,vocational training for female prisoners,such as forklift driving courses and nursing service courses,has been enhanced.
Photograph1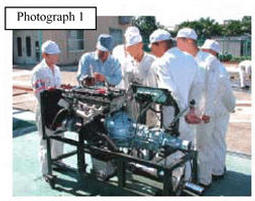 Photograph2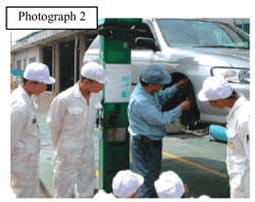 Photograph3