Fig. I-21
shows trends in numbers of persons traveling overseas from Japan and their destination over the last ten years, by region.
Fig. I-21 Trends in overseas travel by Japanese nationals (1990-1999)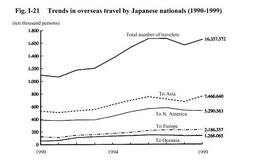 The number of Japanese travelers overseas has been in a consistently increasing trend since 1990, except in 1991 and 1998. In 1999, the number exceeded the previous year's figure by 551,354 (3.5%) to reach 16,357,572. By destination, the USA (including Hawaii and Guam) was most frequent with 4,841,292, accounting for about a third of the total. This was followed by South Korea, China, and Thailand, in that order(source:Immigration Bureau, Ministry of Justice).
Of Japanese nationals who reside overseas,
Fig. I-22
shows trends in "permanent residents" who have obtained the right of permanent residence in their country of residence, and"long-term residents"who stay for 3 months or more (these two together being referred to as "Japanese expatriates"). Compared to the previous year, permanent residents increased by 0.7% and long-term residents by 0.9% in 1999.
Fig. I-22 Trends in Japanese expatriates(as of October1st,1990-1999)